Putin is a bad man, but he's right about the imperialistic decadence of the West
Hate to say it, because I believe Vladimir Putin is a nasty dictator who had no business invading Ukraine ... but he's correct in his remarks about the West and moral decadence. Putin said at Valdai this week:
It is notable that the West proclaims the universal value of its culture and worldview. Even if they do not say so openly, which they actually often do, they behave as if this is so, that it is a fact of life, and the policy they pursue is designed to show that these values must be unconditionally accepted by all other members of the international community.

I would like to quote from Alexander Solzhenitsyn's famous Harvard Commencement Address delivered in 1978. He said that typical of the West is "a continuous blindness of superiority"– and it continues to this day – which "upholds the belief that vast regions everywhere on our planet should develop and mature to the level of present-day Western systems." He said this in 1978. Nothing has changed.

Over the nearly 50 years since then, the blindness about which Solzhenitsyn spoke and which is openly racist and neocolonial, has acquired especially distorted forms, in particular, after the emergence of the so-called unipolar world. What am I referring to? Belief in one's infallibility is very dangerous; it is only one step away from the desire of the infallible to destroy those they do not like, or as they say, to cancel them. Just think about the meaning of this word...
To read more visit The American Conservative.
"The prevalence of gender dysphoria is 0.005-0.014% for males and 0.002-0.003% for females in the US."1 However, according to the Williams Institute, 1.4% of 13-17-year-olds identify as transgender.2 Gender dysphoria is not new and is a legitimate medical condition. The real incidence is difficult to quantify due to political debate and social media amplification of sympathy for the issue. The background incidence long known in the behavioral health community is a more believable figure. A nearly 300 times increased incidence in adolescents is a frightening data point. This mismatch of numbers indicates a high likelihood the vast majority of the 1.4% figure doesn't actually have dysphoria. For the military population, that gap is problematic.
Personal space and privacy are not a high priority in the military due to its inherent mission. Group showers, open bays, large open-style bathrooms, and lack of privacy in the field are norms of the profession. Needless to say, modesty is not a reasonable expectation in many units in the military.
Beginning in 2016, the military began to allow transgender soldiers to serve in the military. In 2022, training and accommodation plans accelerated. The military is ramping up its harassment policies and training. From pronoun training to new protocols for active-duty gender affirmation, the Department of Defense is very active with accommodations for this specific community. One Army briefing is hosted on YouTube. The link is in the references below.3
The Army policy, as briefed, contains 2 concerning components. First, the briefing states, "The care required to transition is individualized and often does not include surgical treatment." Second, the briefing states, "Some individuals prefer that no one knows they are transitioning, while others may want to discuss it openly." Combined, this means soldiers with male genitalia can covertly discuss their plan with the commander and medical providers. Then, the soldier gets placed in barracks with soldiers that have female genitalia (women). Women are not allowed to ask if their new roommate who has male genitalia is transitioning unless the 'transgender soldier' permits. This opens the door for abuse of policy where non-transgender males choose to reside in female barracks or for non-transgender males to pretend to desire to transition. This can be traumatizing to many women that have been victims of sexual assault and have no say about a new roommate or shower mate that has male genitalia. Women who ask for confirmation of the new soldiers' intentions can be prosecuted for harassment. There have been multiple instances in the past 2 years of 'gender fluid' individuals with male genitalia sexually assaulting women in traditionally female spaces.
The simple and obvious solution is to not allow soldiers to occupy showers, barracks rooms, or any other intimate spaces until they have surgically had their genitalia permanently altered to the identified form. This demonstrates intention and conviction to follow through with their identity plans and decreases the risk of inappropriate behavior and sexual assaults. It also allows more time for stabilization, psychologically and medically (hormone drugs).
Vignettes in the Army module don't cover any of these contentious issues. The Army, and likely DoD in general, is moving ahead too rapidly without having thought out prudent and rational ways to integrate transgenders into the force while safeguarding female servicemembers.
1 DSM-V-TR
2https://williamsinstitute.law.ucla.edu/publications/trans-adults-united-states/
3https://www.youtube.com/watch?v=Zzx4Na3wrA4&t=138s (Army Transgender Policy Training)
The United States Air Force Academy on Thursday held a seminar promoting "transgender visibility and awareness in our Air Force."
The "discussion" session focused "on awareness for transgender communities in the military," according to a copy of an invitation for the event obtained by the Washington Free Beacon.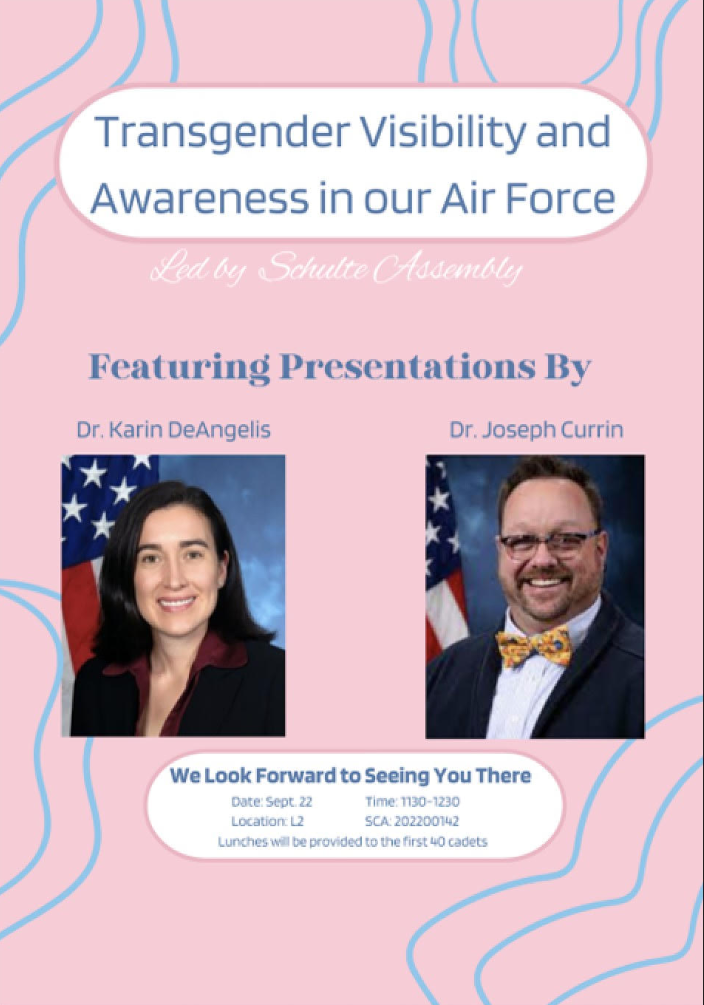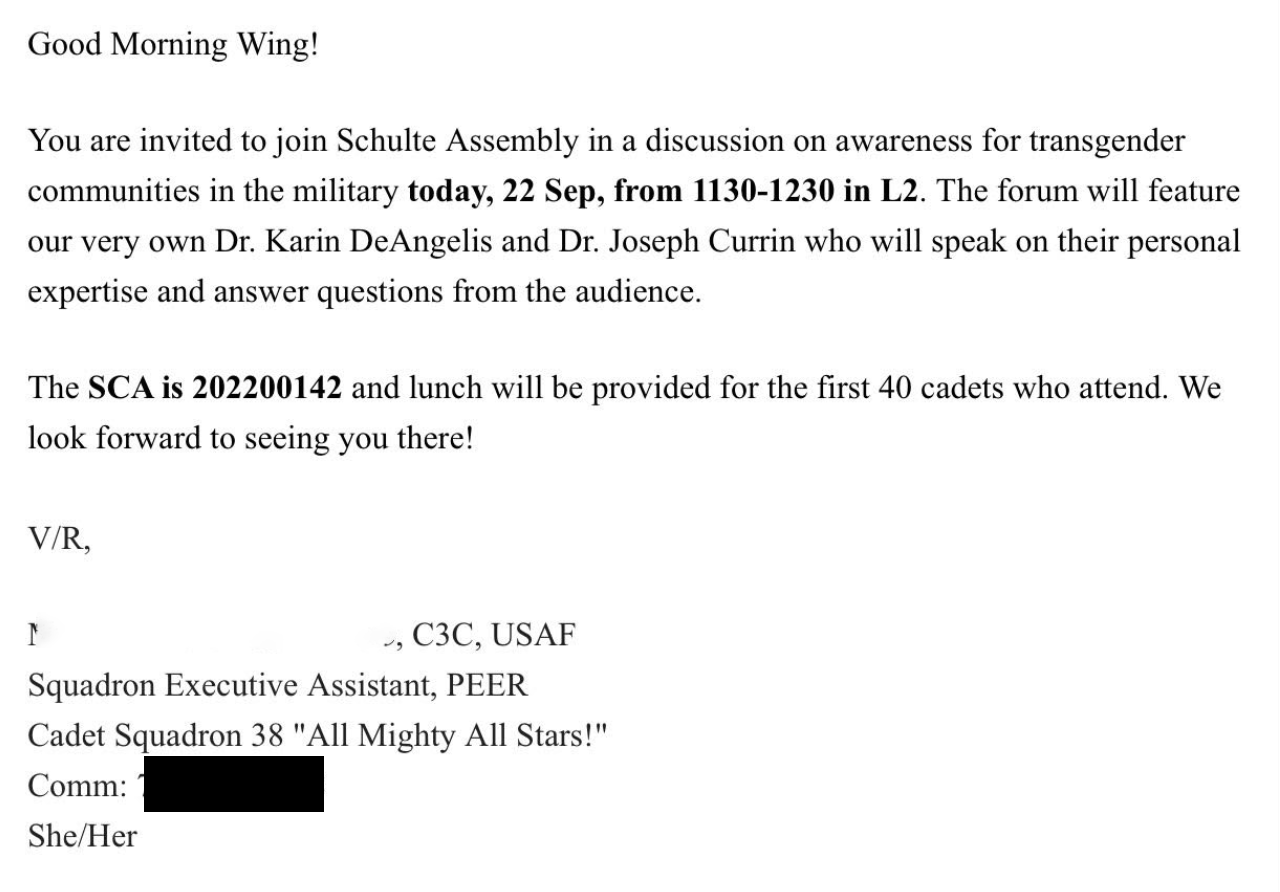 Events of this nature are part of a wholesale push by the U.S. military to foster a more culturally inclusive environment. Critics say this type of training is part of a woke cultural agenda that is being mainstreamed by the Democratic Party's far-left flank. The Army, for instance, mandates gender identity training and instructs its officers on the best time to offer subordinates gender-transition surgery. The seminar was held on the same day the Free Beacon reported on an Air Force Academy course teaching cadets to "use inclusive language" that avoids gender pronouns.
The "transgender visibility" workshop featured two Air Force Academy faculty members, Dr. Joseph Currin and Dr. Karin De Angelis. The speakers were slated to "speak on their personal expertise and answer questions from the audience."
The first 40 cadets to attend the seminar received a free lunch.
To Read More Visit The Washington Free Beacon
U.S. Army Major Dr. Jamie Lee Henry, who came out as the first openly trans officer on 2015, is accused of betraying the military and country he serves by working with his wife Dr. Anna Gabrielian, an anesthesiologist at Johns Hopkins, to give medical records to Russia on patients at Fort Bragg and Hopkins, according to an indictment unsealed Thursday by the Department of Justice. The couple was dealing with an undercover FBI agent posing as a Russian embassy staffer after Gabrielien had allegedly reached out to the Russian embassy. Gabrielian reportedly claimed she was motivated by patriotism for Russia. Gabrielian's profile at Hopkins says she speaks Russian and English.
Harris came out as trans in 2015 in an article published by Buzzfeed.
Press release by the DOJ details a stunning story:
To read more visit The Gateway Pundit.